Bear River Mercantile is for Sale -- Please e-mail for Details
Paul Paprskar Photo 2004 Phillips Photo 2005 Phillips Photo 2001
The Place
Bear River Mercantile, situated at the entrance to Bowron Lake Provincial Park, is a dynamic family run business dedicated to making your visit as enjoyable and informative as possible. Whether you are heading out on the canoe circuit, hosting a major group outing, relaxing a few days or just passing through; Bear River Mercantile offers friendly, flexible service that is known worldwide. At Bear River you will find a small general store, cafe, rental equipment, camper cabins, campsite, picnic area, and unique Museum & Interpretive Center which contains the largest private collection of Bowron Area history and artifacts assembled for public viewing.
Trials and Tribulations of a Back-Country Business in the 21st Century, in other words…"How We Operate"
Today's technologies are causing the world to advance in giga-leaps and tera-bounds. Instantaneous communications, wireless phones (that do just about anything but the dishes -- darn!), money-regurgitating machines and plastic cards that can deplete your bank account in a single swipe! Fortunately (or unfortunately depending on how you feel about it) Bear River has been technologically overlooked. We are devoid of even the basic 19th and 20th century amenities; so don't even think about 21st century luxuries! No telephone lines, cell phone service, telegraph or even Morse code; no electrical lines; no card swipe machines, ATM's or WiFi zones! When visiting Bear River you get to let go of all those technological wonders and get back to basics… and why not? In today's hustle and bustle don't you deserve to rewind back to a slower pace? Enjoy the unencumbered, raw, natural wonders of a technologically free world? Isn't that what a long, slow paddle into the peaceful, isolated backcountry of Bowron Lake Provincial Park is all about? So throw out those cell phones (they don't work here anyway), stow away the computers and come contemplate the soothing sounds of water rippling around your paddle; be mesmerized by a slow moving shoreline; enjoy the simpler things in life – with Bear River Mercantile, a technologically challenged but ecologically friendly, solar powered business.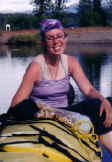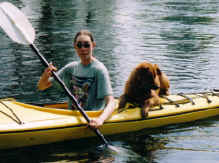 All Phillips Photos
The Proprietors
Sandy Phillips (Chief cook & canoe washer) has lived in the Bowron area since childhood. In the 70s and 80s she was a Bowron Lake Park Naturalist and is a wealth of information on both the natural and cultural history of the area.
Dick Phillips (Short-order cook & Jack-of-all-trades) moved to the area in 1978 and is truly the kingpin that keeps everything running smoothly, as a whole lot of "mechanically challenged" visitors will attest to!
Charley Gumboot (Bear patrol & expert tail wagger) arrived on the scene in 2003, and as any pet owner will understand, he's the real boss of the outfit!
Our Service is Exclusive -- Pre-Bookings are Recommended!
Bear River Mercantile is truly a Ma & Pa operation, run by… you guessed it…Ma (that me) and Pa (that's Dick).

The store, cafe, cabins, campground, rentals (not to mention stocking, shopping, bookwork, maintenance and a multitude of other chores) are all choreographed by 'just the two of us'.

Over the years we have systematically streamlined our operation so that we can continue to offer our exclusive, flexible, one-on-one service that so many of our many clients have come to love.

In order to keep up the high quality of our business, pre-booked reservations are definitely recommended!
Unreserved persons, please be warned that you take your chances as to the availability of our services. This includes service in the cafe, as we will catered to our pre-booked guests before the general public. So whether you require a full package, group booking, meal or accommodations… please e-mail in advance to obtain availability and ensure your booking.

Phillips Photo 2003 Phillips Photo 2003 Paul Paprskar Photo 2004
The Policy
To share the beauty and wonder of Bowron Lake and provide an enjoyable holiday adventure to all who visit, by being affordable, flexible, informative and honest. One visitor says it all; "You treated me just like family!" Fergus McNabb 2002 & 2003 & 2004 & 2006 &.... you get the picture!

Good Ole Fashioned Cash is the Boss!

At Bear River Mercantile, debit cards are completely useless, we don't have the ability to process them, and credit cards are right behind.

Yes, we know we could find expensive, complicated systems that would enable us to accept plastic, but we like to keep things simple and affordable.

So over the counter payment methods at Bear River Mercantile include Cash (that's the paper stuff -- Canadian or U.S.) and travelers cheque. (The only credit card we can accept, if we have to, is MasterCard -- NOTHING ELSE!!)

North American pre-booked reservations can be paid with personal cheques (from Canadian or U.S. banks) and money orders.

International pre-booked reservations can still be held with MasterCard as a deposit, but we will not charge the card… we will hold the number as a security deposit until you arrive at our counter to pay the full price of your booking with cash or travelers cheques. Click here to learn more about our Reservations, Deposits & Payments.
Other Important Stuff
The nearest pay phone or cash machine are in Wells & Barkerville (28 kms).

The nearest public sani-dump is between Barkerville and Wells, it is best to dump septic tanks and fill fresh water tanks before turning onto the Bowron Lake road.

The nearest liquor store is in Quesnel (110 kms) so buy your liquor before you arrive.

The nearest gas station which supplies both gasoline and diesel is in Wells, the nearest propane outlet is in Quesnel.

Fishing Licenses must be purchased at home by internet, in a Provincial government office or select suppliers in Quesnel before arriving at Bowron Lake!!